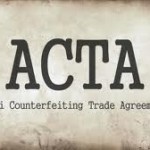 The president of the European Parliament has criticised the controversial Anti-Counterfeiting Trade Agreement (Acta).
On German television network ARD, Martin Schulz said of the treaty: "I don't find it good in its current form."
His comments followed mass protests across Europe against the agreement.
Demonstrations took place at the weekend in various countries including Germany, Poland and the UK.
Mr Schulz said that the balance between copyright protection and the individual rights of internet users "is only very inadequately anchored in this agreement".
Supporters of the agreement insist it will not create new laws and is necessary to standardise copyright protection measures.
More on: www.bbc.co.uk