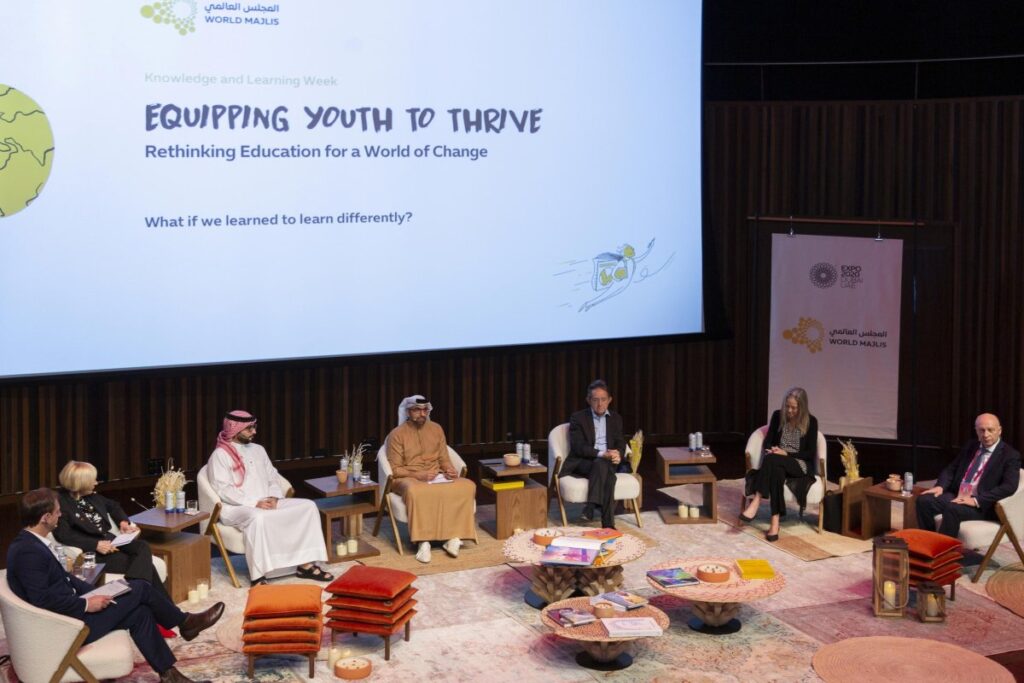 The main unifying topic and motto of Expo 2020 is "Connecting Minds, Creating the Future". For this reason, the intense world expo programme includes knowledge forums, thematic weeks, and meetings with internationally renowned experts of different fields. The organisers of the exhibition have set themselves an ambitious goal of presenting Expo 2020 Dubai's Programme for People and Planet with a focus on the future.
Among the speakers at the discussion forum titled "Rethinking Education for a World of Change" held as part of the Knowledge and Learning Week taking place from 12 to 18 December was also Prof. Dr. Renaldas Gudauskas.
The esteemed panelists at educational session of Expo's programme for people and planet included HE Aymen Tawfeeq Almoayed – Minister of Youth and Sports Affairs for the Kingdom of Bahrain, Denise Amyot – President and CEO at Colleges and Institutes in Canada, Prof. Renaldas Gudauskas – Director-General of the Martynas Mažvydas National Library of Lithuania, Dr. Colin Kennedy – Head of Innovation Education at Creative HQ, New Zealand, Wendy Kopp – CEO and Co-founder of Teach For All, USA along with Adam Pensotti, Head of Canon EMEA Young People Programme, UK and Sir Anthony Seldon, former Vice-Chancellor of the University of Buckingham, UK. Moderated by Sultan Sooud Al-Qassemi – a leading columnist and researcher based in UAE, the session dwelled deep into the steps and actions needed to enable and empower young people for the future by rethinking the how, where and why of education.
During the discussion, seven guest speakers – well-known and recognized experts of their respective fields – shared their thoughts and ideas on how to provide young people with more opportunities to grow and thrive. The event included discussions on the current situation in education, challenges that have been brought about or exacerbated by the COVID-19 crisis, and the need to turn to smart technology in a modern world characterized by continuous change. The event participants also discussed the definitions of high-quality and inclusive education, the need to expand the limits of education, to improve professional training and qualification of education specialists as well as to ensure high-quality education. Other topics discussed include the issues concerning the status of teachers and the importance of and opportunities for lifelong learning.
Click here to watch the full session!