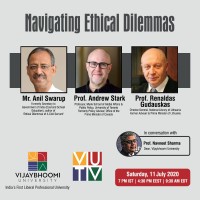 Professional life – either in government or in a corporation – tests the ethical fiber of a person often. In both the settings, a professional is a prime instrument available with the organization to deliver. And, if a professional fails to unclutter the ethical dilemmas and make the right choices, the consequences can be far-reaching.
In this conversation with the author and two eminent commentators, we will help you seek clarity on the following questions:
What constitutes ethical conduct?
What are dilemmas and paradoxes inherent in the politico-bureaucratic ecosystem called government?
What are temptations to deviate from ethical conduct and the challenges in pursuing such a course?
Why ethical conduct is critical to success and happiness?
Why short-termism can be disastrous in the long-term?
How can a professional fit an ethical GPS to navigate day-to-day dilemmas?
Meet three top-notch experts on ethics & governance
Anil Swarup, former Secretary to Government of India (Coal and School Education); founder – Nexus of Good Foundation; author of "Ethical Dilemmas of A Civil Servant"
Andrew Stark, Professor, University of Toronto – Munk School of Global Affairs & Public Policy, University of Toronto; formerly Policy Advisor, Office of the Prime Minister of Canada, and
Renaldas Gudauskas, Director General, The National Library of Lithuania | Lietuvos nacionalinė Martyno Mažvydo biblioteka; former Adviser to Prime Minister of Lithuania