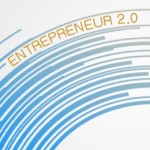 Think Tank LT as an project partner won EC Leonardo grant for the project "ENTREPRENEUR 2.0″.
ENTREPRENEUR 2.0 aims to equip individuals and especially unemployed young people and micro SME owners with skills on exploiting Web 2.0 (Interactive web based) tools and become successful entrepreneurs in markets outside their national borders.
Due to the effect of the recent crisis on the labour market, the unemployment rate and especially the  youth one has risen significantly since 2008. According to recent publication from EUROSTAT, the average youth unemployment rate in EU-27 is above 22% with striking numbers for many European Countries (e.g.  Spain, Greece, Lithuania, Latvia,  Portugal, Ireland) ranging from 30% to 50%.
Very recently (11 January 2013) Mr. Olli Rehn, vice-president of the European Commission and member of the Commission responsible for Economic and Monetary Affairs and the Euro stated in his speech   that Europe needs more entrepreneurs, since most of Europe's new jobs are created in SMEs. This is supported also by the Entrepreneurship 2020 Action Plan  released very recently on 9th January 2013 by the European Commission that urges potential entrepreneurs to set up firms. According to this action plan as well as based on the Small Business Act , first, there are cultural factors which discourage too many people from starting a business. We need to develop a more entrepreneurial culture, starting with young people and from VET education. Also there is too often a stigma attached to failure. Second, the administrative requirements – are often a major factor in putting entrepreneurs off. Third, entrepreneurs need to find it easier to attract investors. The Commission is working with Member States, in particular by facilitating the sharing of experiences and fostering entrepreneurial attitudes. In addition, campaigns such as the European SME Week have been launched to promote the image of entrepreneurship but still there are no positive results on that. Certain groups in society such as people from ethnic minorities face additional difficulties in trying to set up businesses, and special attention is given to helping overcome these.
Furthermore, based on an IDC European Study ("Post Crisis: e-Skills Are needed to Drive Europe's Innovation Society" )  there are two findings of paramount importance that a) e-skills such as using effectively web 2.0 and cloud based tools are a catalyst for making EU moving to a leading innovation society and b) on the other hand current education system is only providing individuals with just basic ICT skills that cannot advance entrepreneurship and support industry needs. This finding is also supported by the EU Skills Panorama portal of the European Commission .
Based on all the above, our project Entrepreneur 2.0 will support the Entrepreneurship 2020 Action Plan as well as the Small Business Act for Europe to unleash Europe's entrepreneurial potential, remove existing obstacles (cultural, financial and social) and advance groups that are underrepresented among entrepreneurs by revolutionising the education of entrepreneurship in Europe with focus on exploiting Web 2.0 and cloud based tools. The adoption of Web 2.0 tools by potential entrepreneurs will allow them to enter new markets outside the national borders in a cost effective way.
Therefore, ENTREPRENEUR 2.0 will focus on familiarization and exploitation of various web 2.0 and cloud based tools and services such as:
 interactive websites and blog tools (Weebly a free web-hosting service featuring a proprietary drag-and-drop website builder, www.weebly.com , wordpress – a free and open source blogging tool and a content management system,www.wordpress.org , etc) for direct communication channel between entrepreneurs and clients from all over Europe and the whole word and starting point for offering services by new firms,
social media tools (e.g. linkedin – a social networking website for people in professional occupations and excellent pool of potential customers, www.linkedin.com , facebook pages a public profile specifically created for businesses within facebook community, www.facebook.com/pages , twitter – an easy way to reach an engaged audience through social networking and microblogging, business.twitter.com , pinterest  a social bookmarking site where users collect and share photos and offers an additional channel for products to be showcased, business.pinterest.com , etc) for direct marketing all over Europe and not only,
effective e-campaign tools (e.g. mailchimp – an online email marketing solution to manage contacts, send emails and track results, www.mailchimp.com , visual.ly -a community platform for data visualization and infographics and an excellent tool for businesses to visualize and promote their message, www.visual.ly , totemapp – a free press page builder for startups, small and medium-sized businesses, and agencies, www.totemapp.com , smore – an online platform for designing and publishing instantly online flyers, www.smore.com , etc) to engage clients even outside national borders.
ENTREPRENEUR 2.0 focus on implementing the following objectives:
To identify and raise awareness on web 2.0 and cloud based tools and services suitable to transcend current market reach of new entrepreneurs and SMEs
To identify and raise awareness on good practices and successful stories of new entrepreneurs and SMEs that have exploited efficiently web 2.0 and cloud based tools for advancing their businesses in a cost effective way
To organize training workshops across Europe on familiarizing current or potential entrepreneurs and especially disadvantaged ones (unemployed, people from ethnic minorities, women, people with disabilities, etc) on Web 2.0 tools suitable for advancing their business
To replicate the project practices with the training of representatives from Chambers of Commerce and SME associations as mentors for offering advice and support on business Web 2.0 tools as services to their members
To create a positive culture for entrepreneurship and make potential entrepreneurs realize how creative, cost effective and fulfilling can be to run your own business with the support of web 2.0 and cloud based tools and services.